It feels great to bask in the sun and support your vitamin D supply. But do you know the UV rays coming out of sun can damage your scalp? Besides this, the unending dust and pollution around also affects your hair. And what about styling? The experiments you do with your hairstyle has a long-term impact on its health. So, you might be facing (or soon face) hair fall. But don't worry! This problem has a simple yet highly effective solution and that's regular oiling. Gently applying hair growth oil helps increase blood flow to your scalp and nourishes the roots. It not just encourages hair growth but also relaxes your body, relieves you from headache, and induces a sound sleep. But why not use a normal hair oil? It is because using a hair growth oil is known to offer added benefits and reverses hair damage.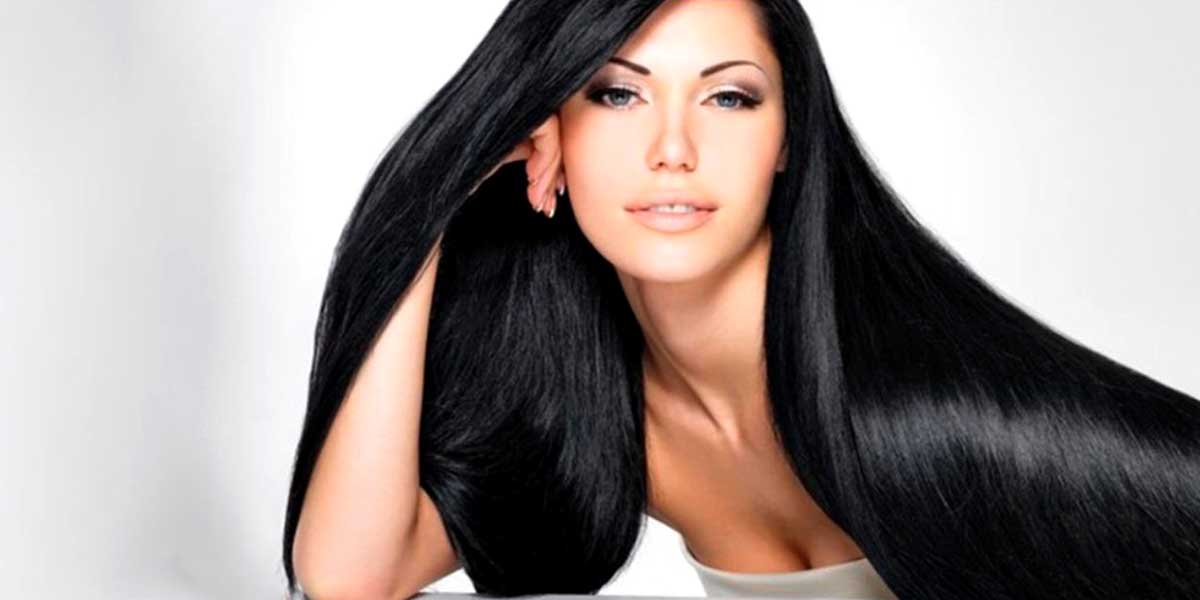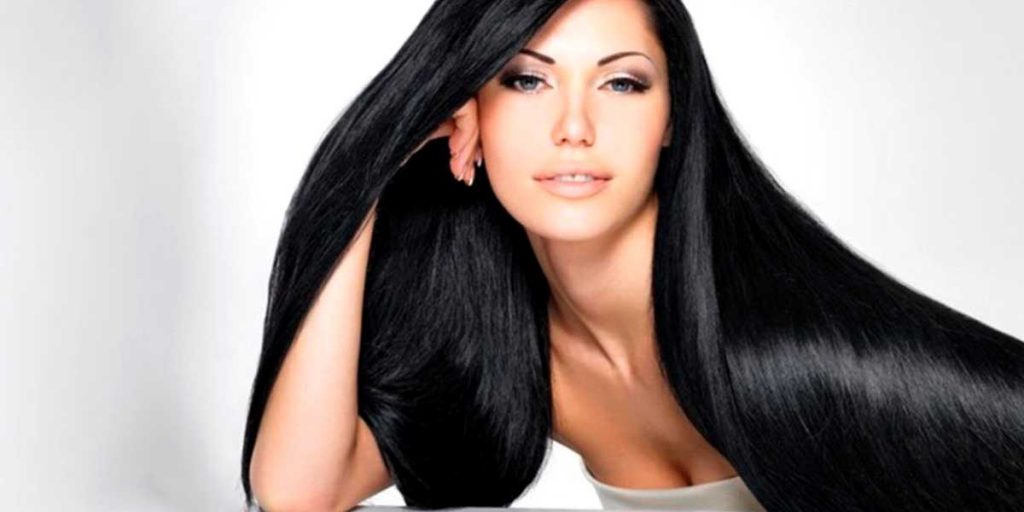 Benefits of Using Hair Growth Oil-
• Applying hair growth supplements promotes blood flow in the scalp and nourishes hair follicles. Nourished follicles result in rapid hair growth.
• Hair growth oil seamlessly diffuses into the scalp and gets absorbed into roots. It provides essential nutrients to the tissues and strands.
• Massaging your scalp with the best oil for hair growth promotes thickness. It also enhances the nutrient and oxygen supply to hair cells.
• Daily massaging with a hair fall control oil reduces the chances of hair loss by treating dandruff. The oil's anti-inflammatory and antimicrobial properties help fight the dandruff-causing bacteria.
• Regular massaging averts split ends and dryness, leading to stronger as well as a silky mane.
• Applying hair growth oil adds a shielding sheath, which prevents the UV rays' harmful effects.
• A hair massage also straightens the hair shaft by making a layer. This averts split ends and stops hair from breaking.

Well, we have noted the benefits of using a hair growth oil. But are there any specific ingredients that you should look for? Yes! Here are 5 best ayurvedic ingredients of hair growth oils and how they benefit your hair health:
• Coconut Oil- Coconut oil is a famous treatment for hair fall. Lauric acid present in the oil prevents hair loss and nourishes the scalp. A high antioxidant percentage also aids hair growth.
• Bhringraj Oil- Bhringraj oil is a natural solution to hair problems like hair fall, irritated scalp, and premature greying. With higher pollution levels and stress in the modern lifestyle, one needs the right health supplements and vitamins for hair loss. Here, Bhringraj oil's scalp cleaning and mind-calming effects help reverse hair damage.
• Neem Oil- Neem oil is probably the best hair fall control oil because of the high fatty acid constituency. It is a great cleanser that unclogs the scalp pores and cleans it to encourage hair growth. It makes the hair shinier and voluminous.
• Almond Oil- Almond oil is effective in preventing breakage and eliminating split ends. This oil is high in linoleic acid and oleic acid content. These acids condition hair, encourage resilience and make them healthier and stronger. Moreover, the presence of vitamin E improves hair texture as well.
• Argan Oil- Argan oil effectively repairs damaged and dull hair and promotes hair growth with high antioxidant presence. The oil deeply nourishes the scalp and follicles, stimulating the thickness and health of strands.
Thus, choosing the right hair growth oil promotes hair volume, provides strength to the tissues, encourages hair growth, treats dandruff, and adds luster. For 100% natural restoration, Nutrafirst brings Hair Regain Oil equipped with Ayurvedic ingredients like Bhringraj, Ashwagandha, Tulsi, Neem Oil, Coconut Milk, Carrot Seed Oil, and more. For a more effective solution, you can also check out Nutrafirst Hair Regain Capsules to add health, thickness, and length to your strands.
Achieving thick, shiny, and lustrous hairs is a priority beauty goal for most of us. However; most men and women across the globe today are affected by common hair-related problems such as hair fall, split ends, premature greying etc. due to several factors. Certainly, it is not pleasing to see several hair strands clogging the drain every day, and you would want to find a natural solution for the problem. Hair regain oil is one such supplement that can help you achieve strong, glossy and thicker hair naturally.
Best hair oil for men and women-
Undoubtedly, oiling your hair make an excellent way to boost hair health, but choosing the right kind of oil is equally important for your crowning glory. Hair regain oil is a cocktail of essential oils derived from rare Himalayan herbs such as Bhringraj, Ashwagandha, Chamomile, Lajwanti, Neem, Olives and Coconut. These organic ingredients make a wonderful source of essential micronutrients that play a crucial role in nourishing hair roots and promoting growth.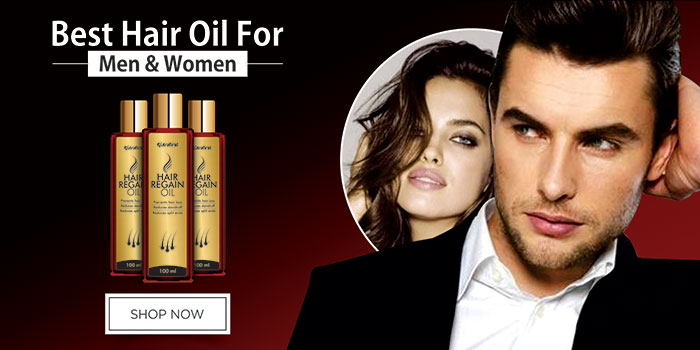 Haircare benefits of hair oil-
This natural supplement is formulated by industry experts after extensive research and provides a multitude of hair care benefits. Some of the most impressive ones as follows-
1. Curbs hair fall-
Hair fall can be annoying, and you may fear going bald soon. Well, you must know that losing around 50-100 strands every day is a normal part of the hair regrowth cycle. However; any number bigger than this may signify a serious problem and need immediate attention. Regain hair oil contains Bhringraj and Ashwagandha contains bioactive compounds that seep into the scalp and strengthen hair roots. Besides, the vitamins and minerals present in these organic ingredients reenergize the dormant hair follicles and stimulate hair growth.
2. Fights scalp infections-
This herbal oil contains Neem and Lajwanti oil that is known for its anti-microbial or anti-inflammatory properties. Regular application of hair regain oil helps prevent microbial build-up on the scalp and lowers the chances of microbial infections. Besides, it moisturizes the scalp and curbs flaky scalp or dandruff.
3. Improves hair texture-
Coconut and olive oil present in this herbal formulation makes it a wonderful remedy to curb brittle, dull and lifeless hairs. These organic oils penetrate the hair shafts and lock-in the moisture. Besides, the active molecules in the formulation diligently work to repair the hair damage by filling the gaps, thus making the hair texture smooth and silky. Apart from that, it ensures proper distribution of nutrients in the strands and prevents split ends, coarse and dry hairs.
How to use-
Using this herbal concoction is super-easy and convenient.To reap the best hair care benefits, take a coin-sized product into your hand and rub both palms together to spread evenly. Now massage onto the scalp in a circular motion, using your fingers. Leave preferably overnight or at least for a few hours. Wash off using regular shampoo.
Where can I buy best brand of hair oil in India?
You can buy best hair oil for men and women in India @ Nutrafirst and avail free shipping at your doorsteps with COD facilities.
Understand the worth of your hair as damaged hair cannot be easily controlled by so-called natural hair oil supplements until it is infused with Ayurvedic ingredients. Your identity is recognized by your hair and face value. A beautiful face with brittle hair makes no good impression.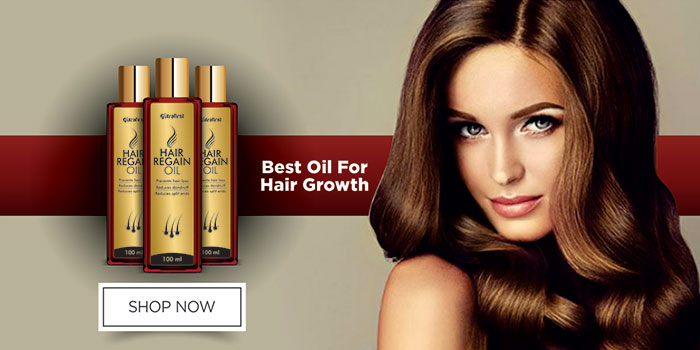 Countless people pay attention to the beauty of the face but tend to overlook pampering their hair with the same zeal that they have for the face. We imbibe every little thing from our favorite celebrities, from emulating their style, stealing their looks to using cosmetics as they do.
However, hair is one part that goes unnoticed especially for the ones that are going through the loss of hair strands per day. They have no other option but to accept the reality that they are getting bald. It is not as if that you will have bountiful and voluminous hairs at all stages of life but maintaining them is in your hand. Caring of hair can extend the time period of falling of hair and controls it to some extent.
Some folks are naturally blessed with good hair follicles and leave no stone unturned in flaunting their fluffy hair. But what about those who are compelled to live the life that they seem to be losing interest for? The reason is nothing but excess hair fall or baldness that spoils everything.
If you are tired of using a number of hair oil supplements to prevent hair fall and always end up spoiling your mood then, stop doing it. Think for a while what you are putting your money into, is it worth it? One right choice may unfurl your every day with pleasant surprises. It is needless to say that we are surrounded by noxious air pollution which is not hair friendly. So, choose wisely whatever hair oil you are picking up.
To retain the radiance of lustrous locks, powerful Ayurvedic herbal hair oil should be preferred choice to remove dryness and dandruff. Taking the right steps to protect the hair from falling should be the priority as the overall personality depends on the condition of hair. Nourish your hair with the best hair oil to rapidly grow the hair.
Nutrafirst Hair regain oil, ingredients like Lajwanti, Chamomile, Coconut, Tulsi, Neem, Bhringraj, and Ashwagandha have been used to give hair the amazing hair volume. This best hair oil for men and women curbs premature grey hair, hair fall, and dandruff. Devote some little time to the health of your hair and go carefree for the rest of your life.
The blend of above-mentioned ingredients brings shine and density in no time. Bhringraj widely known for many other health benefits boost the blood circulation to the scalp and helps in triggering hair growth. When the blood is boosted, it gives your hair follicles the nourishment it requires. Almost all the ingredients have the same potential as Bhringraj does and surely proves to be a good tool in terms of curing hair loss.
The top benefits of using natural hair oil are:-
This oil improves the health of your hair and brings massive improvement in luster, strength, and density. The natural herbal hair oil contains vitamins that act as a source of nourishment to the hair.
Ensure to give your hair a thorough massage with such herbal hair oil that goes into the root of your scalp and boost the blood circulation to improve the hair growth.
Make a routine to use the oil regularly to ward off premature grey hair.
Our natural hair oil fortifies hair tissues with the presence of herbal ingredients. No other products like shampoo and conditioner have this much efficacy to nourish hair so deeply the way this oil does.
Hairs are vulnerable to damages as they are exposed to all noxious air and natural elements, so to prevent tames frizzy hair and excess hair loss. They need meticulous care with good herbal hair oil that can feed nutrients to the hair.
For stronger, longer, and lustrous hair, use our natural hair oil as they contain the fatty acids for the improvement of hair.
No other remedy proves to be successful if it is not endowed with good ingredients. Hair growth is possible only with natural hair oil that is loaded with pure and herbal ingredients. Make sure you are choosing products like we have as they have essential ingredients mixed in the oil for good hair growth.
Do you remember the times when your grandmother used to douse your hair in essential oils? You screamed and cried for the sticky feeling and the nerdy look it imparts. But, oiling your hair regularly with pure and organic oils makes the best hair care regime of all times. At present, many men and women are dealing with a range of hair-related problems such as hair fall and thinning, split ends, dandruff and many others. In such situations, you may want to know which hair oil makes the best supplement for your hairs. Here, we are with a list of herbal hair regrowth oils that make a wonderful potion for your hair. Read on!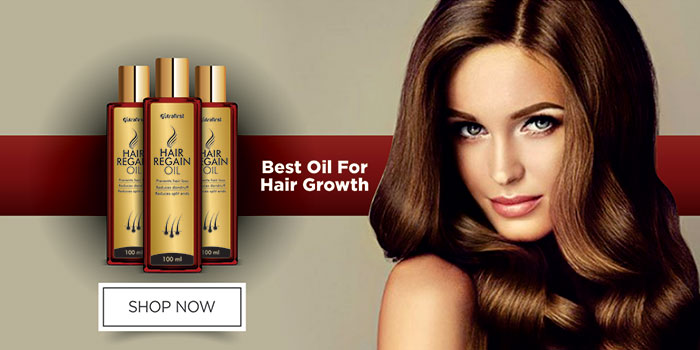 1. Bhringraj oil-
Bhringraj or commonly known as 'false daisy' has been used as an active hair care ingredient since ancient times. It contains a rich concentration of anti-microbial agents that diligently fights against bacterial and fungal infections on the scalp and prevents dandruff. Also, this herbal oil possesses anti-inflammatory properties and makes an amazing remedy for psoriasis and flaky scalp.
2. Olive oil-
Olive oil comes power-packed with a range of monosaturated fatty acids and vitamin E. This golden-coloured elixir seeps deep into the scalp and nourishes the hair follicles from within. Also, it locks in the moisture in the hair strands and makes it silky and smooth. Besides, the organic compounds present in this herbal oil help prevent split ends and boost hair growth.
3. Coconut milk-
If you consider that coconut milk can only make delicacies more flavourful; think once more. Haircare experts conclude that it is known for all the magnanimous nutrients it contains. This organic liquid forms a rich source of vitamins C, E, B1, B3, B5 and B6 as well as iron, selenium, sodium, calcium, magnesium and phosphorus that not only strengthens the hair follicles but help the strands retain moisture and makes them more manageable. Also, rinsing your hair with coconut milk regularly improves their texture and help prevent split ends.
4. Chamomile oil-
We're sure; you have already heard the tales about stress-busting effects of chamomile tea. Now, it is time to turn your focus towards chamomile oil and all the good it can do to your unruly hairs. It boosts the proportion of collagen in the hair, which makes it one of the best remedies for longer, thicker and lustrous hairs. Also, vitamin E and C content of this herbal nectar protect your hair from all the damaged caused by sun rays and harsh climatic conditions.
5. Neem oil-
Who isn't aware of the sweeter health benefits of this bitter herb? Well, Neem oil makes an inevitable component of herbal hair care regimes since ages. This pungent-smelling oil comes loaded with a variety of anti-microbial agents that help prevent infections on the scalp and prevents dandruff. Also, the bioflavonoids present in these oils strengthen the root from within and help prevent hair fall as well as premature greying of hairs.
These are a few essential oils that make superb hair care elixirs. If you are the one who always craves for strong, shiny and long hairs, including any of these ingredients in your hair care regime can bring you amazing results.