Have you ever come across the famous adage-eyes are the window to the soul? Well, eyes indeed form one of the most beautiful assets in your body but clean, young and healthy under-eye skin is something that enhances the look of your eyes even more. However, in modern times, most men and women get affected by excessive hyperpigmentation and problems suffer from numerous under-eye problems such as dark circles, wrinkles, crow eyes, and many others that take a toll on your overall appearance. We all know that under-eye skin is thinner than the skin on the rest of the face and requires special efforts to maintain its overall health. In such cases, using best under-eye cream can help you reach overall wellbeing enables you to cherish the joys of having youthful under-eyes.
Nutrafirst under eye cream-
Under-eye cream makes an advanced, natural formula that is fortified with botanical extracts that are known to repair damage-prone under-eye skin fast. Also, it helps prevent the formation of crow's feet and saggy eye bags under the skin. Indeed, this herbal supplement makes a wonderful cocktail of Almond oil, Sandal oil, Wheat germ oil, Lemongrass oil, Soy Protein, Olive oil, Aloe Vera that helps promote young, clear, and beautiful under-eyes skin in no time.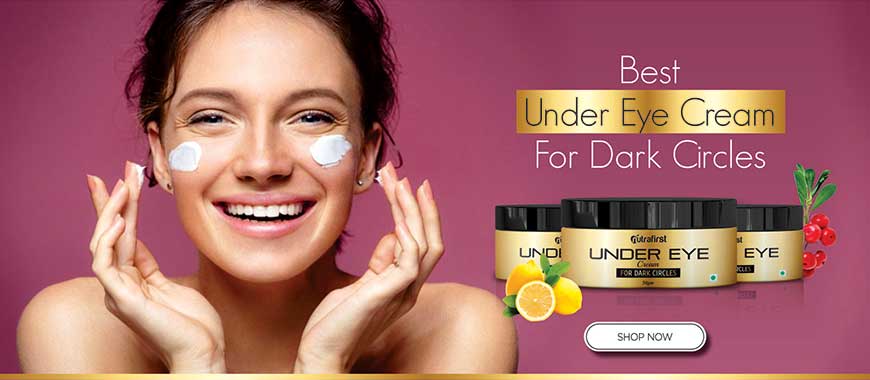 Beauty benefits of under-eye cream-
Under eye cream come brimming with the goodness of nature and pose the following benefits for your under-eyes-
1. Erases dark circles-
Dark circle is referred to that nasty hyperpigmentation around the eyes that can make you older than your actual age or ruin your overall appearance. They often occur as a result of damage to the skin by overexposure to gadgets, nutritional deficiencies, over-application of makeup, lack of sleep, and many others. This ayurvedic supplement boasts the goodness of almond oil, olive oil, and sandalwood oil that penetrate the layer of skin and diligently work to reduce the extent of pigmentation around your eyes. Also, the exfoliating components in this under-eye cream remove dead skin cells and also, even out skin tone around the eyes.
2. Defies premature aging-
Premature aging around eyes is not uncommon in recent times. It often appears in the form of dark circles, wrinkles, fine lines, and saggy skin as well. This organic under-eye cream comprises of soy protein and lemongrass that work to maintain the elasticity of the skin and reduces the appearance of wrinkles, crow's feet, and fine lines around the eyes. Besides, the bioactive compounds present in this ayurvedic cream transforms your under-eye skin by rejuvenation.
3. Reduces puffiness and eye bags-
Puffiness and saggy eye bags beneath the eyes can be annoying and ruin your appearance as well. The wheat germ oil forms a source of powerful anti-inflammatory agents that helps curb annoying puffiness and under-eye bags. Also, it helps maintain the elasticity of the skin and provides you with the desired results.
4. Removes eye tiredness–
Nowadays, most men and women spend long hours staring at the computer screen, TV sets, or smartphones, which emit blue light. Overexposure to blue light can irritate your eyes and can cause fatigue, and pain. It causes a great deal of discomfort and makes a prime cause of dark circles and wrinkles on your under-eye skin as well. Aloe vera is the prime soothing ingredient in this herbal under-eye cream and diligently works to soothe dull, tired, and irritated eyes.
How to use under-eye cream?
Using this non-greasy cream is super easy. To reap the best benefits, take a pea-sized amount of the cream and make dots on the eye counter area. Massage in a circular motion until fully absorbed. You are recommended to use this under-eye cream twice daily.
Where can I buy best under eye cream in india with Best Price?
You can buy best under eye cream online in India at the best price and avail free delivery at your home with best COD facilities.