Stopping hair loss is a challenging task, and to prevent the strands from falling out, we use numerous hair care products. But, many of these products may come loaded with chemicals that may affect the health of your hairs negatively. However; hair care experts conclude using herbal restorative supplements as one of the best ways to achieve healthy, long and strong hair. Today, we will be reviewing one herbal hair oil for men and women that is admired and trusted by reputed hair care experts for its effectiveness. Read on!
Nutrafirst hair regain oil-
Nutrafirst hair regain oil is a herbal supplement that comes enriched with powerful ingredients such as Bhringraj, Ashwagandha, Lajwanti, Coconut milk, Tulsi extract, Carrot seed oil and many others. These medical-grade botanical extracts make a wonderful source of essential micronutrients that nourish the follicles from deep within and stimulate healthy hair growth. Also, the multivitamin complex in this formula works at the cellular level to boost the appearance, texture and overall health of your locks. Here is a list of benefits you can get by using this organic hair oil regularly-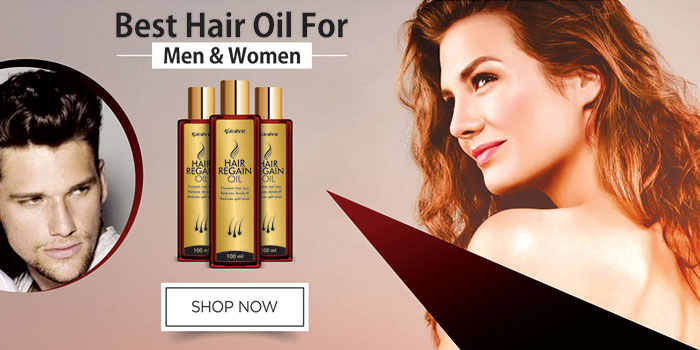 1. Prevent hair fall-
Nowadays, men and women of all ages are affected by hair fall and thinning tresses along with other problems. Hair care experts conclude stress as one of the major causes of hair fall amongst most people. This restorative treatment contains natural adaptogens such as Ashwagandha and that soothes the mind and boosts the supply of oxygen-rich blood in the scalp. This increase in pure blood in the scalp strengthens the follicles from within and prevents the strands from falling out.
2. Curb dandruff and stimulate hair growth-
Dandruff often occurs as a result of a lack of moisture or microbial growth on the scalp. Hair regain oil contains rich sources of vitamins and minerals that seep deep into the scalp to provide much-needed hydration and curb dandruff and dry and flaky scalp. Also, these micro-nutrients wake up dormant follicles and promote quick and faster hair growth.
3. Makes hair smooth and shiny-
Thinning hairs take a toll on your outer appearance as well as self-confidence. Pure herbal extracts of Ashwagandha, Coconut milk and Bhringraj that make an age-old remedy to make the tresses smooth, voluminous and glossy. The active phytochemicals present in these extracts fill the grooves in the hair strands and improve its texture. Also, these herbs diligently work to prevent premature greying and helps keep hair black and healthy.
How to use hair regain oil?
Using hair gain oil is just a walk in the park. To reap its best benefits, you can take a generous amount of oil on your palm. Rub both hands together to spread it evenly. Thereafter, massage the scalp in a circular motion using the fingertips. Leave preferably overnight and wash off next morning using regular shampoo.
Where can I buy best hair oil in India?
You can buy hair regain oil at the best price online. Avail free shipping, best discounts and easy convenient method of payment at your home.